Point-of-Purchase Design Support
Our design department will collaborate with your in-house team to help optimize the structure, format and configuration of your new designs.
Utilizing "grab-and-turn" 360 degree 3-D renderings, they are trained to seek out adjustments and enhancements that will produce the desired functionality and retail impact at the lowest possible cost. Your files will be carefully reviewed to maximize efficiencies, and we proactively make recommendations to our customers that can help save them money before a job hits the press.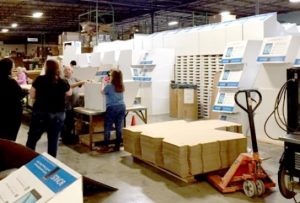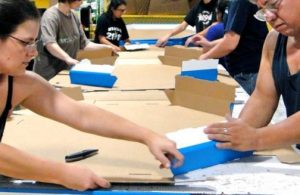 Assembly Service
Once your job comes off the presses, our in-house assembly team can take over, delivering a range of services like kitting, handwork, fulfillment and more.
As your full-service partner, Sutherland will do whatever it takes to get your P.O.P. displays, pallet wraps, cartons or shippers into the marketplace.
QA/QC
At Sutherland Packaging, quality control is built into our process from the earliest stages of design to final delivery of the product.
Our color experts ensure that there are no variances in consistency, resolution and reproduction when your product is being manufactured. Accuracy and precision are paramount in pre-press color management. That's why we employ a variety of procedures and protocols to ensure that the work we produce meets (or exceeds) our customers' quality standards.